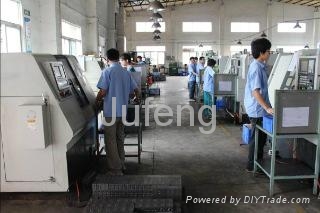 Dongguan Jufeng Hydraulic Manufacturing Co., Ltd.( Old name: Jufeng Pressure Technology Co., Ltd) is specialized in hydraulic components and systems with our brand of JU FENG. Our company is constantly endeavoring to provide solutions and pre-eminent products based on experienced technology, precise manufacturing facilities and international ISO9001, CE and MCS quality assurance systems, which insure quality products.

Our company has established rigid quality assurance systems for the idea-"customer is our center, customer's think is our think, quality is our main point". In the meantime, our company hammers at perfecting upstanding service, including pre-sales & post-sales service to decrease customer's worry.

JU FENG products are applied to Machine Centers, Metal Working Machines, Car Parking Systems, Plastic Injection Molding Machines, Wood Processing Machines, Rubber Machines, Shoe Making Machines, etc.

We supply OEM service to customers and distributors in China, Taiwan area, etc.

While being not complacent with those achievements, we hope the customers in various localities can give advice and do business with us.